05 March 2020
Military Artists: Québec City's Nineteenth Century Documentarians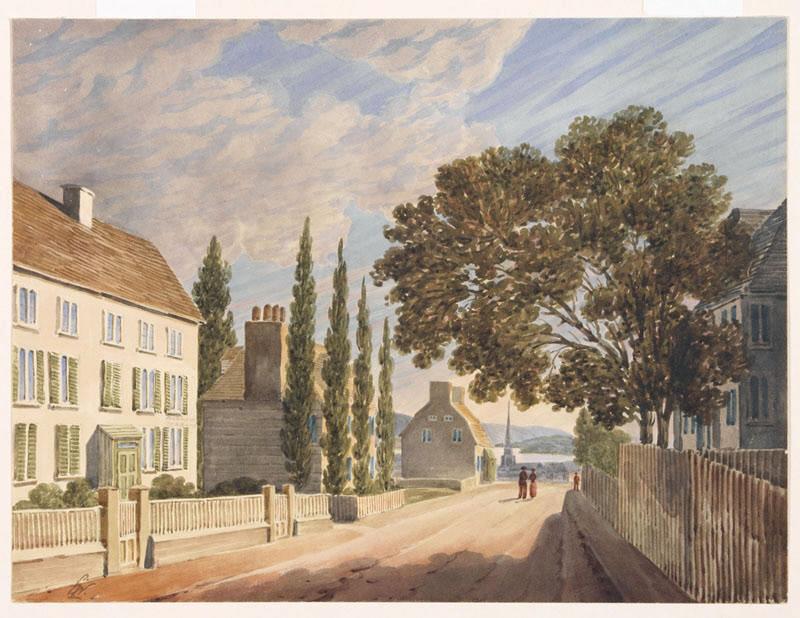 In the nineteenth century, many artists came through Québec City, meaning that we're blessed with numerous magnificent pieces depicting the city and its surroundings. Since Québec City was a garrison city, many of these artists were British officers and soldiers passing through the capital of Lower Canada. They strolled through the streets, visited taverns and inns, and walked along the parapets and the surrounding countryside. Their work illustrates what they saw. As a result, they produced a treasure trove of documentary evidence. Having depicted the citizens and the features of urban landscapes, these military artists show us what daily life was like in Québec City, when photography had not yet been invented.
Depicting the City Before Photography
In the eighteenth and nineteenth centuries, drawing classes were part of officer training. Landscape art was actually a highly useful tool for military tactics. Understanding the surrounding area allowed commanders to develop strategies and make decisions about troop movements and deployments. Québec City was the British Empire's capital in the northern part of North America. As a result, officers and representatives of the Crown were headquartered there. This explains why many topographical artists were at work in the area for the entire period when British troops were garrisoned in Québec City, from 1760 to 1871.
Charcoal sketch and watercolour were the most common artistic mediums employed by 19th-century artists, both civil and military. Sketches were often done by the artist directly on the site, showing what he observed at a specific time – almost like a photograph. These line drawings in pencil or ink were made quickly, often in a notebook.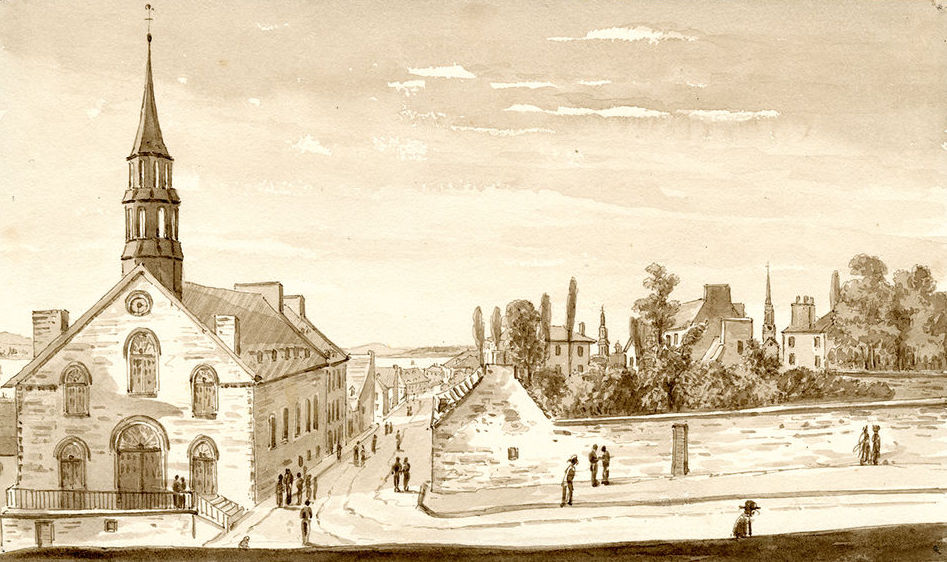 Some of these sketches were then later completed in watercolour, or even totally reproduced on larger canvases – for example wove paper. Oil paint was rarely used by military artists due to its cost, but also because it required more expertise and a longer drying time.
A Precious Visual History
The themes depicted by military artists range from the beginning of British Regime (1763) to the early years of Confederation (1867), but the years from 1820 to 1840 were best captured.
When looking at the subject matter of the works created by these military artists, they reveal a wealth of fascinating details about period clothing and the buildings comprising the urban environment. In some cases, it's possible to see details that no longer exist today. The trained eye can even perceive the relationships between the people in the scenes. This visual account is of untold historical value, because it allows us to understand what life in Québec City might have been like in the nineteenth century.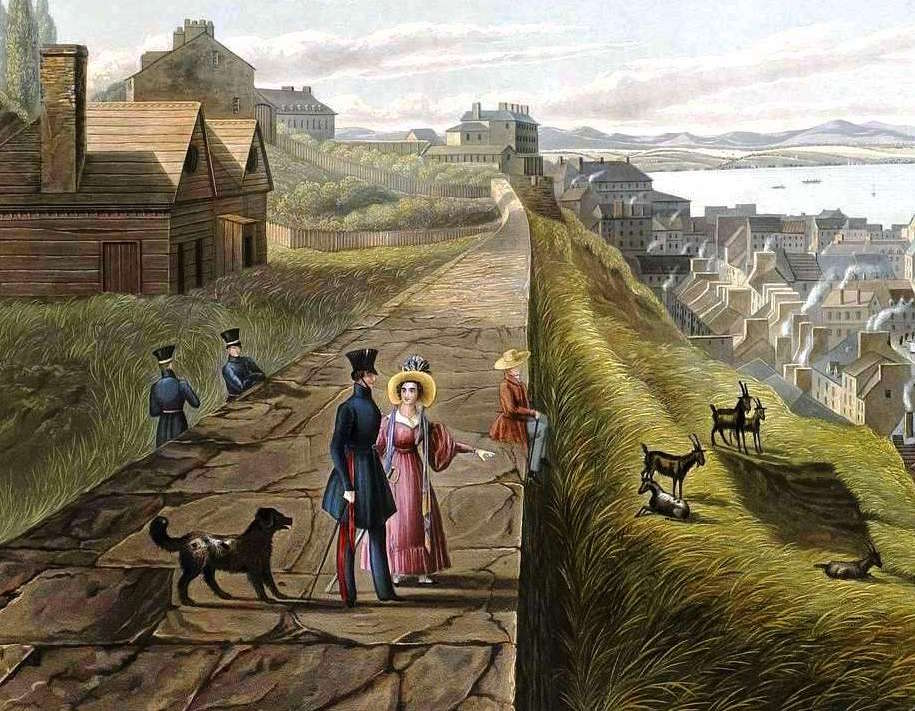 Skilled Visual Storytellers
Credit where credit's due: the first military artist known to have depicted Québec City was Richard Short, a naval officer and topographer. Little is known of his life aside from the fact that he arrived in Québec City with the British army at the end of the Seven Years' War, on a ship from the fleet that accompanied James Wolfe's troops. His views of Québec City give a glimpse of how the city looked just after the naval bombardment of 1759. The Upper Town is badly damaged, while the Lower Town is spared, relatively speaking.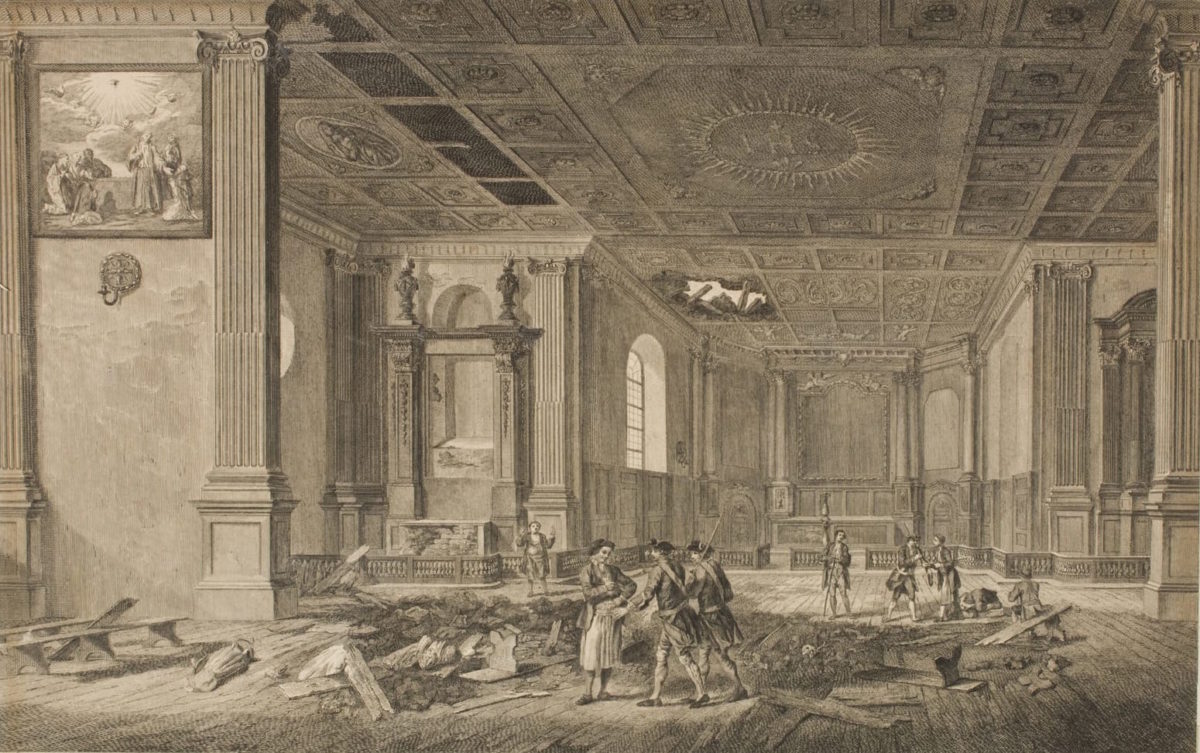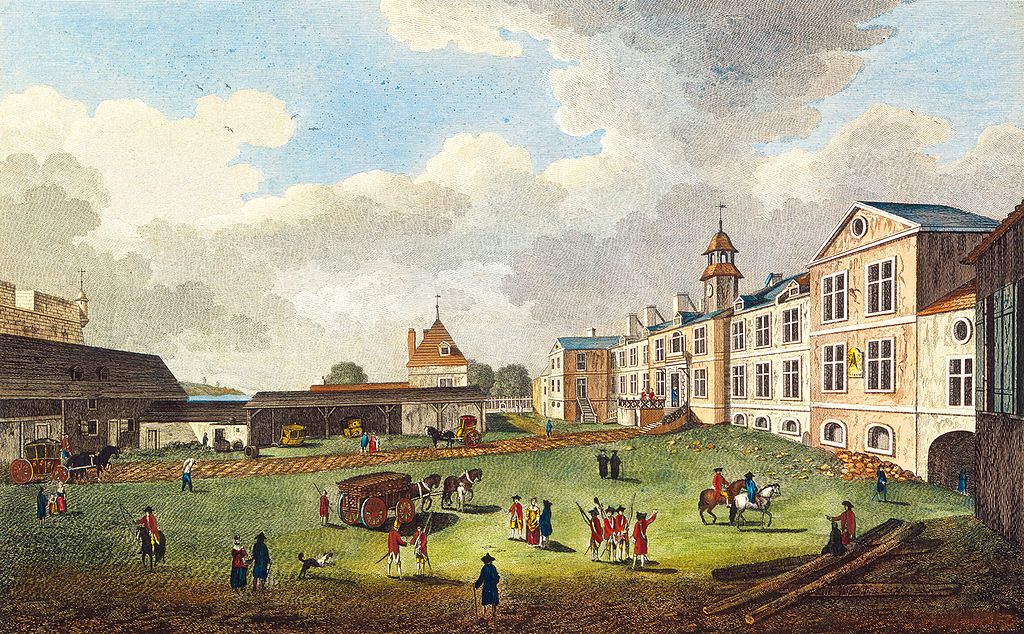 Certain military artists received clear orders from their commanders. Such was the case for British soldier James Peachey, who worked for the Office of the Surveyor General, depicting landscapes and buildings to serve the army. Little is known about him, apart from the fact that he spent a few years in the Québec City region, as demonstrated by his works. Peachey's works also made it possible to disseminate printed images showing the new British possessions in North America: there is no doubt that his works influenced the British conception of Canada at the time. It is also thanks to the influence of British military artists such as Peachey that the taste for landscape art developed in Quebec.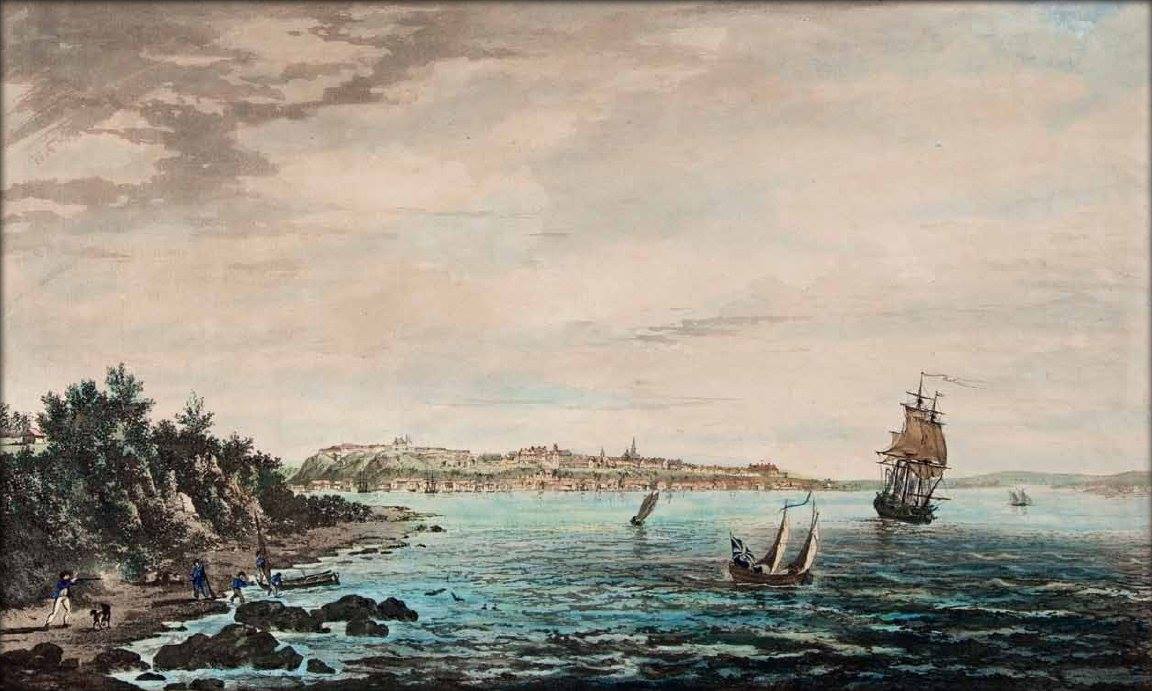 Some of the military artists who depicted Québec City were particularly prolific. To wit, James Patterson Cockburn (1779-1847), who was an artillery commander as well as a painter-topographer. Cockburn came to Québec City twice. He arrived for the first time in 1821, leaving two years later. It was particularly during his second stay, from 1826 to 1832, that he painted many views of the city, from original angles and depicting civilians as often as he did soldiers. Notably, he painted aspects of the capital's defensive infrastructure, including gates and fortifications. The precise lines and vibrant colours of some of Cockburn's works make them look like polaroids of the early 1830s.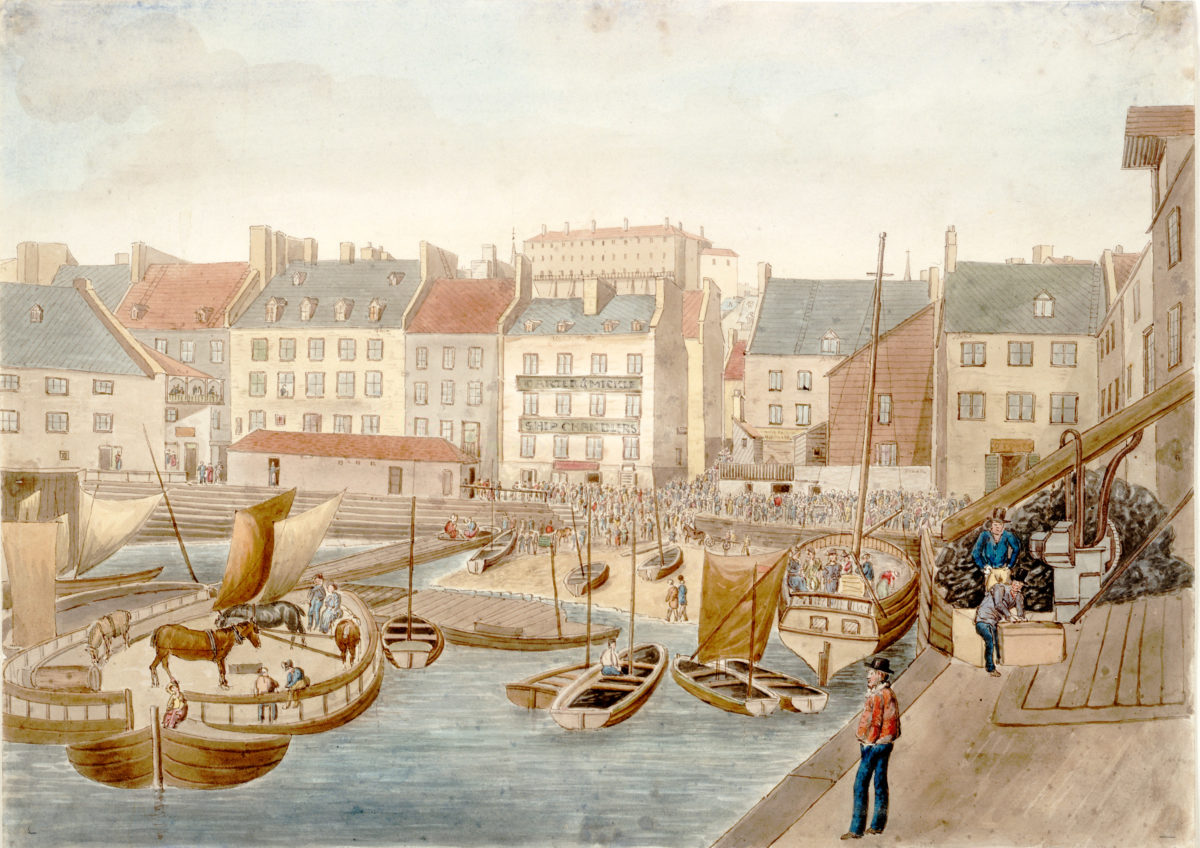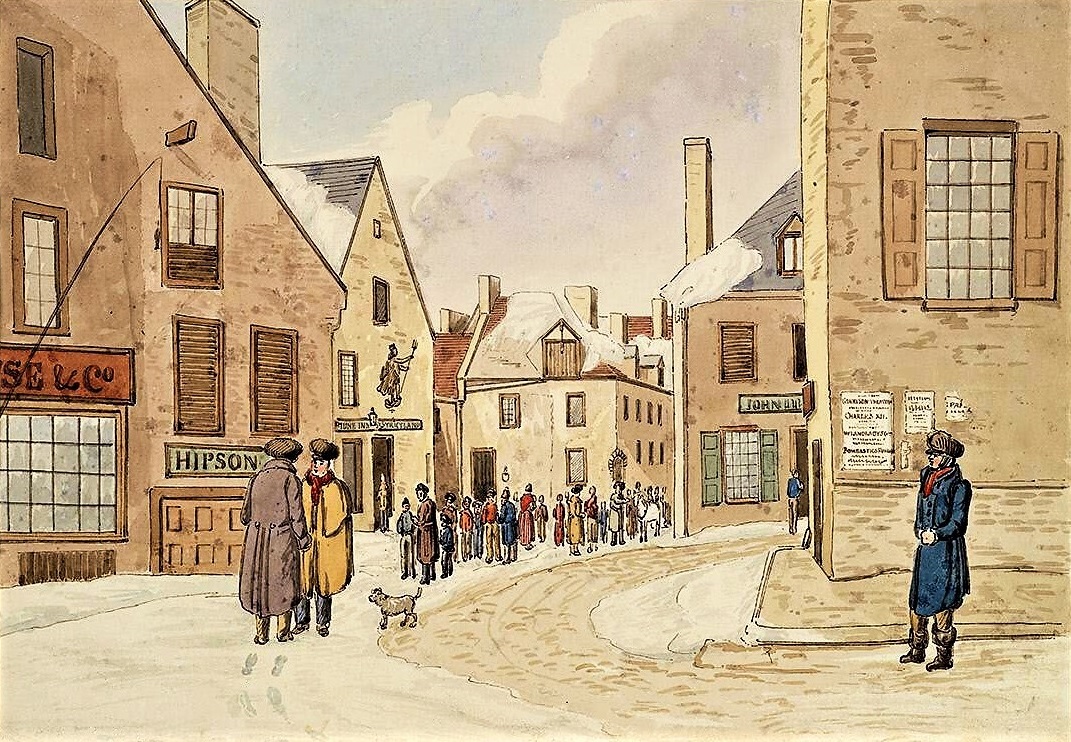 James Pattison Cockburn, L'auberge Neptune, au bas de la côte de la Montagne à Québec, 1830.
Musée royal de l'Ontario, 995.21.12. Domaine public.Throughout the nineteenth century, the British military members played a prominent role in the art of engraving. For example, Henry Bunnett, who was a sergeant and later captain in the Victoria Rifles of Montreal, spent four years in Canada, during which he created numerous paintings and topographic drawings.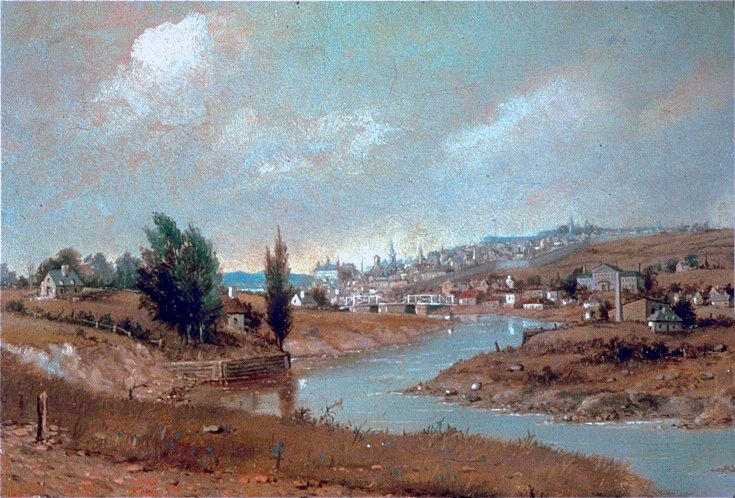 A Precious Heritage
In short, the military artists who visited Québec City, particularly in the 19th century, were true witnesses to everyday life in the capital. Their works make it possible to understand many aspects of life and to rediscover buildings that no longer exist today, enriching our understanding of the city's past and that of its inhabitants.
If you wish to witness the ongoing history of military artists, visit the Voltigeurs de Québec Armoury, where you can discover pieces inspired by military work, done by Mrs. Patricia Bellerose.